Remote Work - Is This The Future?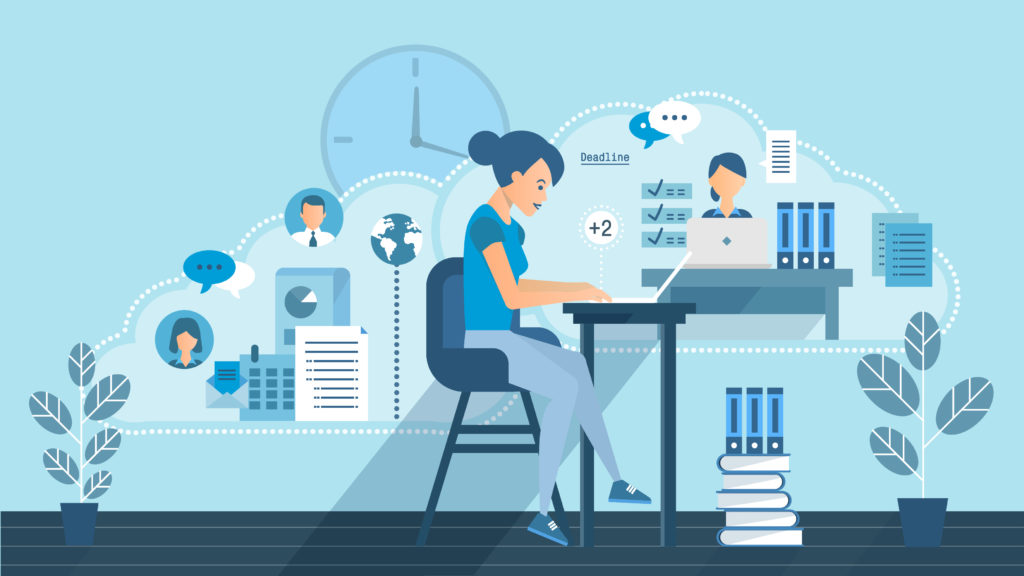 Over the past few years, many companies and businesses have been trialling the idea of remote work but still a large number of companies were unsure as to whether or not employees working remotely would be a productive transition for their company. Although remote work was most certainly on the rise a recent requirement to self-isolate and "work from home" as a result of the Coronavirus (COVID-19) has brought this concept forward for much of the workforce globally. 
The presence of many digital technologies such as Zoom, Slack, Microsoft Teams etc. has made the transition from brick and mortar offices to digital offices a seamless change for many people and in some cases eclipsing the efficiency and convenience of in-person interactions. But there are still important questions to answer: what motivates employees to work on their own accord and is working from home likely to decrease or increase productivity?
Why Employees are Enticed by Remote Work
Shorter commutes, private office, flexible work hours. This all leads to less time wasted, more productive work hours, and increased happiness among employees.
In 2013, Stanford University conducted a study by randomly assigning employees at a call centre to work from home and others to work in the office for nine months. The result was a 13% performance increase by those working from home, of which 9% was from working more hours.
One of the biggest roadblocks to productivity are distractions and everyday commute – remote work eliminates these. A ConnectSolutions remote working report concluded that fewer distractions lead to higher productivity. 30% of the survey respondents said that working away from the cubicle allows them to achieve more in fewer hours, while another 24% stated they accomplish more in the same amount of time. 77% of remote workers reported higher productivity. In another study by Sure Payroll, 86% of people said they preferred to work alone to "hit maximum productivity." What's more, two-thirds of managers say employees who work remotely increase their overall productivity.
Remote work also lowers stress – in fact, an entire 82% of telecommuters reported lower stress levels. That is a good thing not only for employees but also for employers. 80% of workers also reported higher morale when working from home, while 69% reported lower absenteeism.
According to a study published by Stanford University, offering remote work options reduced employee turnover, and job attrition rates fell by over 50%. 82% of professionals said they would be more loyal to their employers if they had flexible work options.
How Companies can Benefit from Remote Work
Companies are often concerned that employees might not act with integrity and take responsibility for their work when working remotely, which is sure to reduce their productivity. People criticise working remotely because they find it difficult to measure the number of hours their employees are working. What they forget is that going into the office does not equal productive work. In terms of accountability, there is also software available such as Hubstaff which helps to monitor the online activity of employees. By giving people the freedom to work where they want and by adopting a culture of trust and respect, you're empowering individuals to not just show up, but to show results.
For example, research shows that teleworkers in British Telecom are up to 40% more productive when they can work from home. What's more, this research article states how the average employee loses 759 hours per year due to workplace distractions. Meanwhile, across the water in the United States, IBM and Sun Microsystems slashed more than $110 million (£89m) of their real estate costs as a result of embracing the concept of remote work. 
We hear it over and over again: always hire the best people. The companies that embrace telecommuting have a significant advantage over those that haven't figured it out. For each candidate that is available to work in your city, there are hundreds more around the world that can do it better. Hiring top talent is already hard enough as it is, so why limit the single most important ingredient for the success of your business? It's inevitable that more and more skilled workers will adapt to a remote working lifestyle, and it's the companies that can accommodate the lifestyles of these talents that will become the market leaders in the future.
We at Firstaff have seen many companies continuing their recruitment drive throughout the recent pandemic, conducting interviews over telecommunication softwares such as Zoom and signing contracts using DocuSign. A large number of these companies have also now transitioned their employee onboarding process to support the new remote working practices and get new employees set up quickly and easily. 
Conclusion
Remote work is not and will not be for everyone, and not for 100% of industries. But in the growing number of industries that remote work is a viable way of doing business, there are some significant benefits for both employees and employers. It is up to you as either an employee or an employer to take advantage of these benefits.
To view our list of both remote and non-remote job vacancies please visit our Jobs Section.
If you are an employer who needs help filling a vacancy please post your role in our Employers Section or get in touch using our Contact Page. 
Share this blog post with others