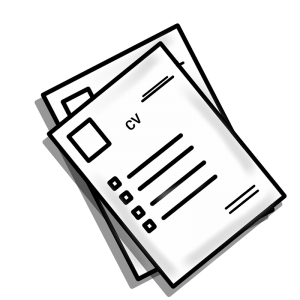 Are you planning to apply for a job and are looking for ways to create an outstanding CV? Then, we have five killer tips to make sure that you grab your employer's attention.Here are 5 top tips for your CV.
1.  LESS IS MORE-USE LESS TEXT AND SIMPLE FONTS:
Your CV must not be crammed with a lot of heavy vocabulary words and varied font styles, as it makes it look very inconsistent and unprofessional. Use simple words and the right headings so that in a glance, the employer should be able to find the relevant experience that the post requires. 
Try to place the content that is related to the position you are applying for, on the top and irrelevant things on the bottom of your CV. And make sure that you must compress your experience and accomplishments to just one page, because a three page long pdf CV won't work for you.
2. KEYWORDS-A PERFECT TOOL TO GET YOUR CV NOTICED:
In this world of internet marketing, keywords play an integral role in getting your profile ranked higher. An online CV submitted would be getting the highest views, if one masters the art of perfectly using these keywords. So do make sure to include the necessary keywords in order to create an ideal CV that would land you your desired job.
Since the world is revolving around technology these days, like wise most of the companies have also started using ATS (Applicant Tracking System).This tool helps scan the CV and the one with the maximum number of keyword matches is most likely to be viewed by the employers. 
So do check out profiles of successful professionals related to your field and try to mould your language and writing style like them. And remember do not over saturate your CV with keywords.
3.  KEEP YOUR SOCIAL MEDIA PROFILES UPDATAED:
You may add the URL of your face book, LinkedIn, twitter and Instagram account. Adding their link to your CV will help the recruitment team to analyse your social network, recommendations and projects you might have been involved in so far.
4.  GO FOR A STEALER HEADLINE:
Head line should be an honest brief of what as an employee you can offer to the company. Keep it brief, precise and realistic.
5.  DISCARD PASSIVE WORDS AND PROOFREAD:
Go for active voice rather than passive. Like if you have led a project, you may use words like administered, developed, formulated, incorporated, pioneered, and initiated. Or maybe you brought in new partners so you can express your experience using words like, negotiated and partnered or perhaps you took part in the research team so go for words like evaluated, forecasted, examined, surveyed, investigated and analysed.
Last but not the least proofread your CV. Careless spelling mistakes and grammatical errors can lend you bad reputation in the eyes of your employer. So be careful!
Just follow these tips and you will surely be able to impress not one but many employers with your CV!

 
Share this blog post with others