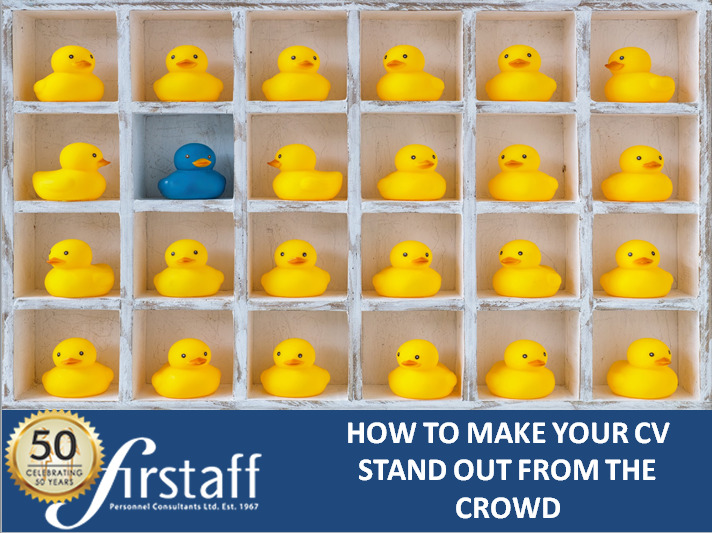 Writing or updating your CV is one of the most important things to get right when job seeking. Your CV is the first impression you will make on a prospective employer, so it is worth putting the time and effort into making sure your CV stands out. There are a number of things you can do to ensure that your CV gets noticed and improve your chances of getting the job you want in these challenging times.
Structuring your CV
Having a solid structure in place helps get your CV noticed by recruiters and employers. Not only will it look sharp, but it will also demonstrate your ability to effectively display clear information in an organised manner. The text and format used throughout the CV should be consistent and look professional. There are 4 main building blocks to a CV – Personal Details, Personal Statement, Education & Qualifications and Work Experience. You should also add a short section on your Skills and Interests/Hobbies, and at the end of your CV include a line stating "References available on request". As a rule of thumb, your CV should be roughly 2 pages in length; however this will vary for some candidates depending on their level of experience. Your CV is the first impression you will make on your prospective employer, so it is important to make it count!
Use a CV Template
It is worth considering using a CV Template which you can tailor to a specific role. The CV template should outline the main points of your skills and experience, which you can expand on depending on the requirements for a particular role. Adopting this approach can increase the likelihood of a recruiter seeing you as a good fit for the role they are trying to fill. Tailoring your CV to be more reflective to what you are applying for will most likely mean you will be added to the initial short list of potential applicants. Provided you meet the requirements in terms of qualifications and experience, putting in this extra effort really demonstrates that you are interested in the role and can only help your cause!
Personal Details
Your Personal Details should be the first thing on the top of the first page of your CV. Your name should come first, bold and centred at the top of the page, followed by your address, email address and phone number. You may also wish to add links to your professional networks (LinkedIn/Blog/Website). If you wish to include a photograph, this is the section in which to do so. Keep the image size small so you don't take up too much space, and ensure that it is an image taken in a professional setting.
Personal Statement
This section of the CV should appear immediately below your Personal Details section, and be no more than 5 or 6 lines in length. Your personal statement should be unique and concise, and command the reader's attention, making it impossible for them to ignore your application. Essentially, you are trying to put across to the recruiter a brief summary of who you are, why you want the job, what skills you have, and why they are relevant to the role you are applying for, and what your career goals and objectives are.
Education & Qualifications
Your education details must be clearly outlined, with your highest level of qualification listed first. Include all your academic achievements and ensure these are accurate and up to date. Any other diplomas completed or qualifications received should be mentioned along with details of any relevant trainings or courses undertaken. Dates and locations should be included for each academic qualification or achievement. If you hold a membership with any professional organisations related to your industry it would be beneficial to outline this here. Other standard qualifications such as EDCL cert, Full Driving Licence etc. can also be added if relevant.
Explaining Your Previous Experience
Your work experience should be clearly outlined in chronological order beginning with your current or most recent position. You should include the name of the company, your position, the dates you worked for the company, and a description of your key duties for each position. Engage the recruiter by relating keywords from the job spec to your previous roles. Use your judgement to decide which of your previous roles are most relevant to the position you are targeting and provide greater detail for those as it will help in assessing how good a fit you are. Highlight your key achievements, and give facts and figures where you can to emphasise the value of your previous work.
Gaps/Career Breaks
Honesty is the best policy when it comes to addressing any gaps you may have in your work history. Perhaps you took a career break to travel, or took time out to care for a relative or raise a family? Life experiences can provide people with transferable skills that will make their candidacy even more attractive for certain roles. Be positive and use these experiences to your advantage by being able to demonstrate how they have contributed to your personal development.
Grammar
Nothing sticks out like a sore thumb more than a spelling mistake or a grammatical error on your CV. As helpful as spell check tools are, there are some mistakes that are not picked up which could ruin your chances during an application process if not identified and corrected. Always double check any dates and figures included in your CV. It is always a good idea to re-read your CV after you have written it or made any changes to ensure there are no errors. It could also be worthwhile to get a friend or relative to read it to make sure there is nothing you have missed.
Share this blog post with others
Need help with applying for a job?