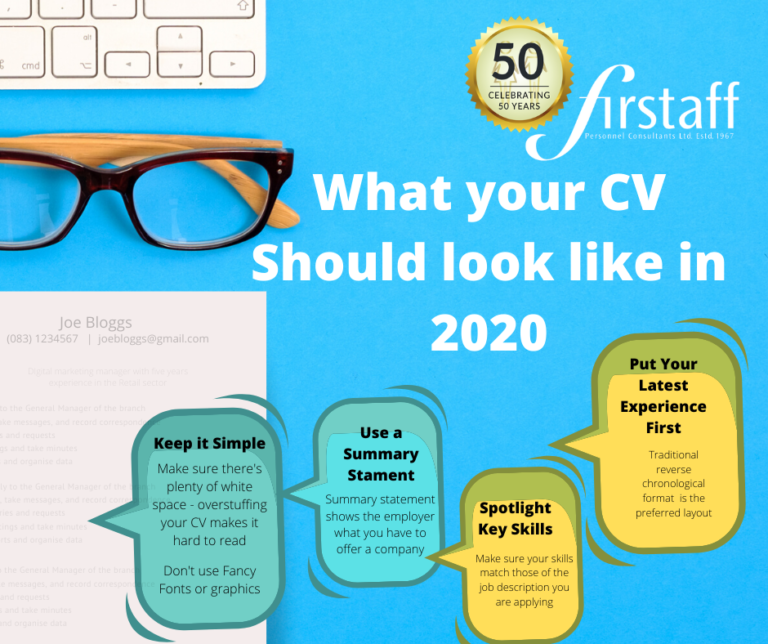 Unsure what your CV should look like in 2020? Use these tips to get your CV ready for the new decade 2020 — and get yourself that much closer to the perfect job.
Simple layout, clean design
Use clear section headings and make them stand out with bold font and or capital letters
Make sure there's plenty of white space – as an overstuffed resume is hard to read.
Don't use fancy graphics, fonts or images of any sort in your CV.
Summary statement instead of an objective
A summary statement is more useful to the recruiting company as it explains what value you can bring to their company. When writing your summary statement be sure to tailor it towards the particular role that you are applying for highlighting why you are the ideal candidate for the position.
Highlight your key skills
Highlight your key skills section at the top of your CV or at the bottom, after your work experience, make sure the skills you list match the requirements for the job you're applying for. Not sure what those are? Read the job description carefully to see which skills, programs, and keywords are mentioned. If there's a requirement or responsibility listed in the job description that you've performed in a current or previous role, it should be on your CV.
Put your latest experience first
Recruiters still prefer the traditional reverse chronological format. Be sure to list your most recent roles and positions first and provide more in-depth details regarding these positions in comparison to older positions that may not relate as much to the role you are applying for.
Break it down
For each job, list out your responsibilities and key projects you were part of.  Use bullet points, not paragraphs as these can be harder to read.
Consider adding volunteer or other experience
Listing volunteer work or other interests can give your CV personality. These experiences can also help you highlight transferable skills you've gained outside of the workplace.
If you're looking for a new job, Firstaff Personnel Consultants have a large number of Jobs in great Companies looking to hire candidates.
Need help with applying for a job?
Share this blog post with others